Hi,
Welcome to my Jeeping and off-roading page. From here you can find a link to details of the modifications to my Jeep, some of the events I have attended with Jeepclub and J33P and some useful links to other Jeep sites, vendors and garages.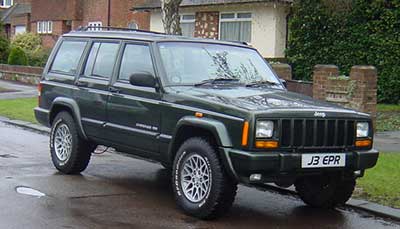 My Jeep started off as a standard 4 Litre Limited Cherokee that I purchased new in 1998 from Weybridge autos in Cobham (ok to buy from but their after-sales serviced was not to be recommended!). Whilst it was still under the three years warranty I kept it as standard however during a service in late 2001, just out of warranty, I was told that one of the tyres had a puncture (it actually had a screw embedded in it). Given that the other tyres were not far off needing replacing I started the quest for new tyres. As standard for some reason the Cherokee came with a space saver spare tyre (WHY!) so I decided to change that for an alloy wheel. As the Jeep dealer wanted £318 + VAT for a new alloy I hunted for a second hand one on the internet. This lead me to discover the "All Fours Jeep club" as it was then known (http://www.jeepclub.co.uk) where I found an alloy wheel for sale in the classifieds section of the site. When I spoke to the vendor (Stu Gepp) he recommended that I get BF Goodrich AT tyres and also that I should come to a Jeepclub event to experience my Jeep off-road. As I had done the "official" Jeep off-road day I thought that this would be fun. Above is a picture of my Jeep relatively shortly after being fitted with the AT tyres (also showing my old number plate).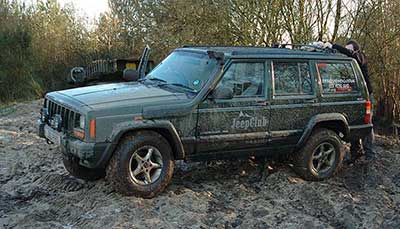 Anyway, Max and I really enjoyed our initial off-roading "adventures" at Salisbury plain and the Jeepclub event at Broxhead so we decided to join Jeepclub and another Jeep / off-roading club, J33P and attended more events. To see a full list of events please click over to my Jeep Events page. As we continued with these events it became clear that the Jeep would need modification from standard to improve traction, clearance and additional protection for the body and drive train so I embarked on a series of modifications to improve that. Many of the modifications were "bolt on" and most of the work I did myself however for some installations I turned to some of the Jeep specialists such as MDG based in Portsmouth. To see a full list of modifications please click over to my Jeep Details page. On the left is a picture of my Jeep Cherokee as it is today. Of course, now that the Cherokee was this modified it was not fantastic to drive on the road with mud tyres and also as the events could prove more damaging I decided that this Cherokee should become my off-roading "toy" so I decided to look for a newer vehicle to to act as my normal "driver" so to this end in 2004 I brought a one year old Jeep Grand Cherokee Overland (below).